Air Conditioning Services
Air Conditioning Services
Raintech Home Services provides our customers with the highest quality of services personalized for your home's individual needs. Whether you're considering replacing your existing AC unit or purchasing your first air conditioner, trust Raintech Home Services to help you choose the best air conditioner for your Calgary home. Our professional, courteous and experienced technicians provide education to all clients for a better understanding of the standard of care needed on your home's air conditioning system. We believe every customer should fully understand the purpose, benefits and maintenance requirements of the system in your home for maximum efficiency.
Booking and completing regular maintenance on your air conditioning system is important to decrease the chances of needing to replace the system. There are electrical components that require inspection as well as coils and ducts that need to be clean for adequate air flow.
In the case you are needing a replacement or are looking to install this home's first system, our technicians will be able to advise you on brand and size for your needs.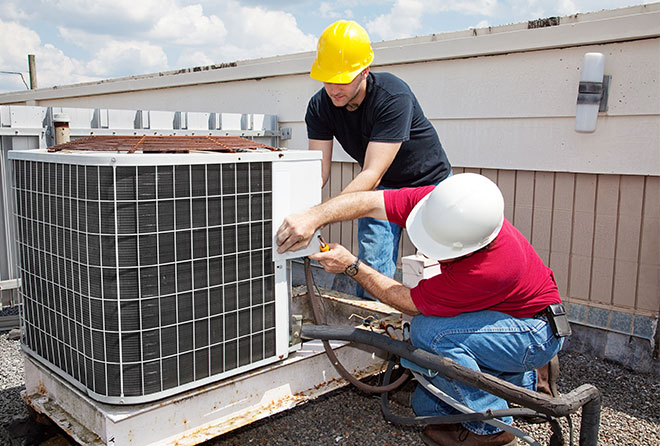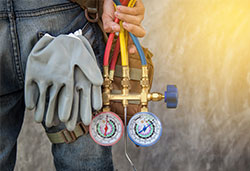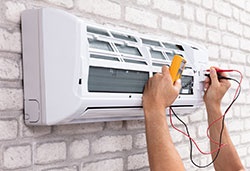 Request Air Conditioning Services
Why choose Raintech Home Services for Air Conditioning Services
Nearing a decade of reliable service to our community, we've streamlined an efficient and trustworthy process of service and installation of Air Conditioning Systems. Our technicians are well-trained, seasoned professionals with a thorough understanding of the systems and the importance of their functions. We guarantee the best customer service and highest quality of standard in the Calgary and surrounding areas. Our highlighted goal is to increase the comfort and quality of air in your home.

We have a flat-rate for a service call-out and diagnosis, no further work is started without homeowner approval of the service and cost, this guarantees no hidden fees.
You can trust us to be able to respond to any furnace emergency with the best technicians in the industry.

A smooth booking process with a two-hour arrival window, advanced notice calls on the way, and same day appointment options for emergency appointments.
What to Expect from an Air Conditioning Service
Our professionally trained technicians will arrive to assess the systems interior and exterior for damage. With a flat rate fee, after diagnosing the issue our technician will discuss with you the cost of the parts and repair so there are no hidden fees. It is important to us that our customers are making an educated decision on the repair of their air conditioning system. The technician on site can do any of the following as a service of repair:

   Clear drain lines of common blockages
   Check refrigerant levels to ensure proper balance and efficiency
   Inspect electrical components/connections
   Blow out any dirt/debris on the interior and exterior coils
   Clean the furnace fan for proper Airflow
   Check furnace speeds for proper air flow requirements

Once the service is complete, the technician will leave you with details of the inspection for your future reference.
What to Expect from an Air Conditioning Installation
The installation of a new air conditioning system in place of an old unit past repair or for the first time are both services we are able to perform. Raintech Home Services will have a technician meet with you on site to discuss the air conditioning system and your needs for the size of your home. We understand that keeping your home at a comfortable temperature is important and because of that, we choose to install the Goodman brand as they are trusted and reliable in this industry. With a durable material and hail guard, this quiet outdoor air conditioning system is top of the line in consumer request. All Goodman equipment comes with a 10-year Parts Warranty if there are any services needed.