Water Leak Detector 24/7 Services
Water Leak Detector 24/7 Services
One of the most catastrophic damage to occur in a home is flooding. Flooding can cause damage to the structure of your home, cause mold and destroy valuables. Here at Raintech Home Services we want to make sure all your home protection needs are covered, and preventative measures are in place before any unexpected damage occurs. Imagine being able to prevent a flood before it occurs; with new and advanced technology called LeakSmart, this has now been made possible.
LeakSmart is a smart flood detection system that can detect excess water coming from multiple water source locations in your home. We offer a variety of packages that can include a smart valve, water sensors, central hub and a mobile app so you are in control, no matter where you are. Not only does the system provide leading technology in preventing floods, we can also use the app and technology to track and control water usage by day, week or month.
Depending on the package you choose, LeakSmart systems may have the capability of detecting water leakage and turning water off in 5 seconds or less. It will send an alert to your phone notifying you that a leak has been detected and the water has been turned off. Even in the case of a power outage LeakSmart still has the ability to protect you with a backup battery and radio frequency called Zigbee if your WiFi connection is lost, this is true 24/7 protection.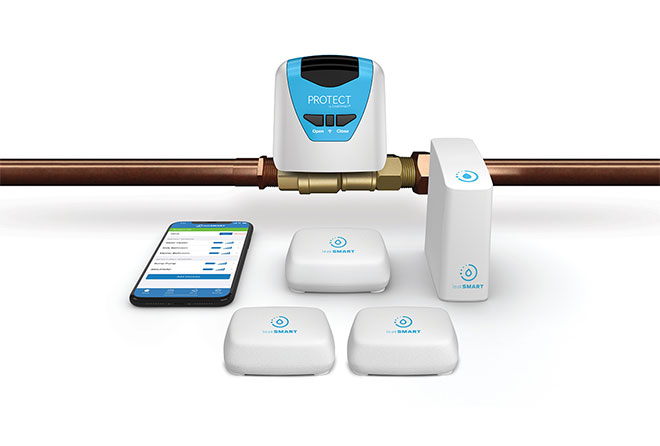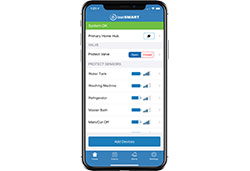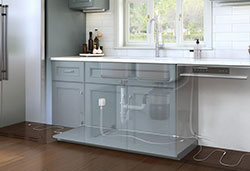 Request Water Leak Detector Services
How it Works?
After choosing the package that is most suitable for your homes needs, our certified plumber will install the system for you. If you choose a package with a smart valve, we will install it to your homes main water line which allows it to shut off in 5 seconds or less if a leak is detected. The central hub will than be placed in a location that will communicate with the valve and sensors. Sensors are installed in leak prone areas of your home; you can also choose the option to extend your protection to areas that are hard to reach with SensXtend. We offer a variety of additional options to get the best possible protection. Once the technician has installed the system and ensures proper coverage in the home, you will be shown how to use the mobile app. As an added bonus your system is also compatible with Google Nest, Amazon Alexa and Control4. Now that your system has been installed, you can have the piece of mind knowing your home is protected.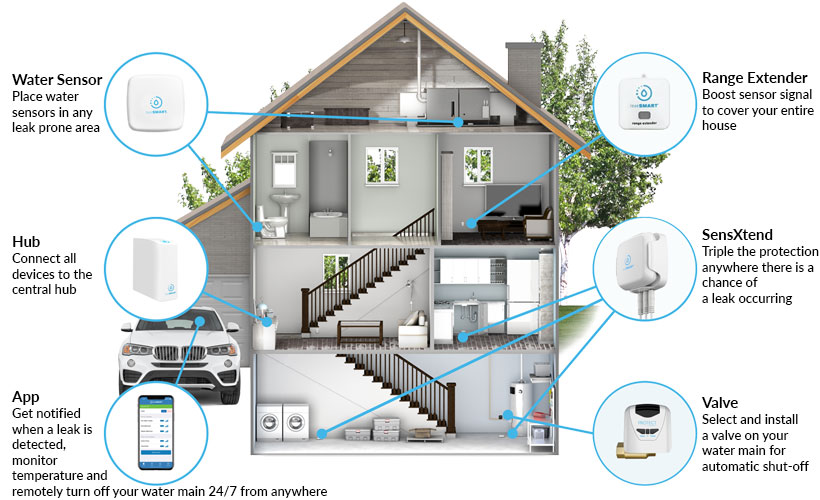 | Options | Cut-in (Smart) Valve | Hub | Sensors | Flow control (monitors and analyzes water flow) | Benefits |
| --- | --- | --- | --- | --- | --- |
| 1. | (No plumber needed) | | | | Leak detection only. You will need to physically shut off the main valve. |
| 2*. (3/4" or 1") | | | (1 sensor) | | Prevention and Detection. No option for flow control. Will automatically shut off the main valve when sensor is in action. |
| 3*. (3/4" or 1") | | | (3 sensors) | | Prevention and Detection. Will automatically shut off the main valve when sensors are in action. |
| 4*. (1 ½" or 2") | | | (1 sensor) | | Prevention and Detection. No option for flow control. |
* INCLUDES PLUMBING
Additional Products Available:
LeakSmart Sensors
SensXtend by LeakSmart Sensor and Extension Kit (Includes sensor, 4' rope, 4' extension rope and sensor dock)
 SensXtend by LeakSmart Rope Sensor and Extension Cable Pack (Rope sensor and extension cable)
SensXtend by LeakSmart Rope
SensXtend by LeakSmart Extension Cable
Why choose Raintech Home Services for Water Leak Detector Services
Raintech maintains a high level of professionalism, reliability, and workmanship to ensure that our clients are 100% satisfied from start to finish. With over 20 years of experience in plumbing and home services, our team is more than capable of protecting your home from a catastrophe.
We provide a specialized quote based on the clients needs, this ensures there are no hidden fees and the client receives exactly what they asked for.
We offer a smooth booking process and set up appointments in coordination with the client's schedule.
   No Monthly fees
    5 Year Manufactures Warranty
   Several Package Options
   Additional Products Available
   Smooth Booking Process