Eavestrough / Gutter Cleaning
Eavestrough / Gutter Cleaning
Raintech Home Services offers a professional gutter cleaning service to Calgary and surrounding areas. Our professionally trained, licensed and insured technicians are available for advanced booked appointments; we are ready and eager to service your home to your satisfaction. We choose to do all gutter cleaning by hand to ensure there is no foreign objects that can increase the chance of damage to the gutters. Our detail-oriented technicians will sweep through every gutter to ensure the surface and drains are cleaned for the change of season. We recommend gutter cleaning twice a year: in the spring before the heavy rains and in the fall after the leaves have fallen. Why? Gutter cleaning is not just for the appearance of your home but also the maintenance. A block in the gutters results in no path for water to flow away from your home, giving it the opportunity to pool, seep through your siding and window seals; ultimately causing large damages to the foundation of your home.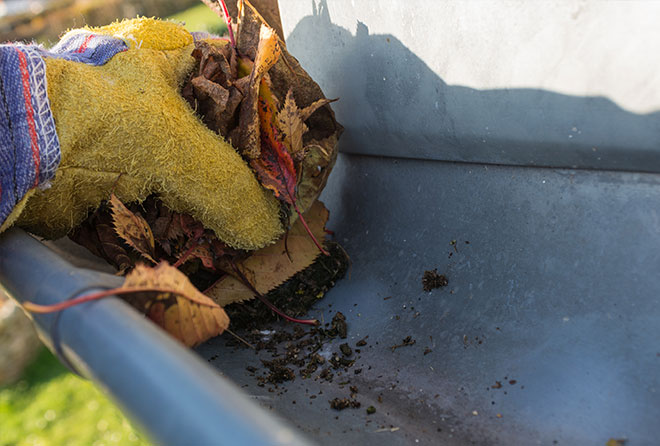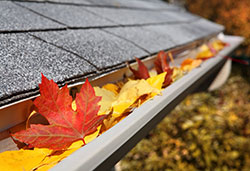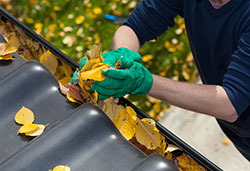 During the estimate and booking process, to make sure we have all the correct information needed for the appointment, please let us know:
Square footage of the home

Material of Roof

Number of Stories
Trust our professionals at Raintech Home Services every time to get the job done safely, and to your expectations.
Why Choose Raintech Home Services for an Gutter Cleaning
Raintech Home Services Gutter Cleaning division is one of respectable, detail oriented, trustworthy employees whose main goal is to get your home cleaned to your satisfaction. With experience in the home industry in the Calgary area, we understand that as the season drastically changes, so does the amount of dust and dirt that accumulates in your home's gutters.
A smooth booking process consisting of a two-hour arrival window and advanced notice calls on the way, we don't require a homeowner to be present as all work is in done to the exterior of the home. Servicing Calgary and surrounding areas, we will accommodate your schedule and ensure every appointment is done to your standard.
What to Expect During Gutter Cleaning
Our professionally trained technicians will arrive on site for the appointment. First assess the whole home to know the number of gutters to be cleaned to confirm with the information given over the phone. The pitch or angle of the roof as well as its materials will determine the length of time spent on site as some materials limit traction to be able to walk on. From there, our technician will use a ladder and begin top to bottom to clean with efficiency.
We do require that if you have pets, they are inside and secured for the whole duration of the appointment as our technicians will be frequently opening gates for access. All organic waste will be disposed of in green bins on the property appropriate or removed by the technician if you choose. We're fast, efficient, highly trained and ready to get your home in its optimum working order.