Window Cleaning
Raintech Home Services performs exception interior and exterior window for the Calgary and surrounding areas. Our professionally trained, trusted licensed and insured technicians are available for advanced booked appointments; we are ready and eager to service your home to your satisfaction. With minimal customer preparation needed for interior or exterior cleaning, we make it easy for you to enjoy a fresh outlook on your home.  
We move carefully about your home, using detailed care with our squeegees and microfibre cloths to ensure a streak-free clean. We remove any grease, fingerprints, and dusty build up, ensuring you have a beautiful, clear view of your world.
We suggest a minimum of annual window cleaning on your interior and exterior windows. As there are manmade and natural materials that will adhere to the windows inside your home and to get the optimal clarity, an appointment once a year is best advised. For households with low windows where kids and pets can reach, we suggest cleaning twice a year as these generally have more traffic. For seasons of increased rain or wind, there can be an excess amount of natural material stain to your exterior windows and this would be a case by case on increasing the frequency of cleaning your exterior windows.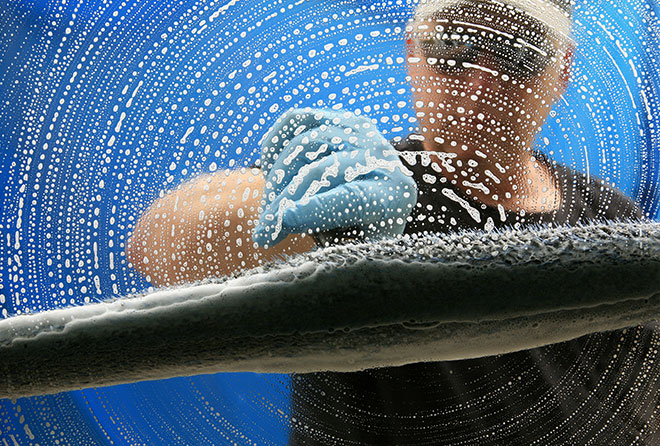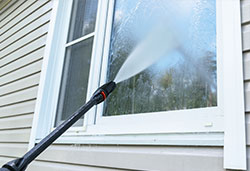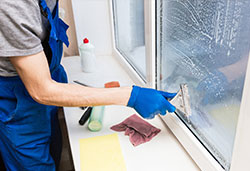 During the estimate and booking process, to make sure we have all the correct information needed for the appointment, please let us know:
Square footage of the home

Approximate number of Windows
Number of stories of your home
Yes/No Pets in the house
Garage Door/Skylight Request
Roof Material
Open your house to a better view by having Raintech Home services clean your windows.
Inquire within for a free over the phone estimate for your window cleaning.
Why Choose Raintech Home Services for a Window Cleaning
Raintech Home Services Window Cleaning is one of respectable, detail oriented, trustworthy employees whose main goal is to get your home cleaned to your satisfaction. With experience in the home industry in the Calgary area, we understand that as the season drastically changes, so does the amount of dust and dirt that enters your home.
A smooth booking process consisting of a two-hour arrival window and advanced notice calls on the way. Servicing Calgary and surrounding areas, we will accommodate your schedule and ensure every appointment is done to your standard. For interior cleaning, we require access to the home, some customers like to be home for the whole duration of the appointment, if not, we can call on exit and have you meet back at the property to ensure a walkthrough of completion and a locked door.
For exterior windows, once a date is secured, we will continue with the booked appointment, complete the work and provide a follow up call for confirmation as we do not need someone home for access.
What to expect from a Window Cleaning
For both interior and exterior window cleaning appointments, our technicians will arrive within the 2-hour arrival window for a prompt start to the appointment. For interior window cleaning, we ask that the homeowner removes items such as plants and picture frames from the windowsills, so our technicians can access the window.   For exterior window cleaning, for our technicians to able to reach your high standing windows, we will be using a ladder. If you have any play structures or outdoor furniture that limits the placement of the ladder, please do move them for full access for a full cleaning the windows.